Dogs have to bear it all barefoot, from heat burns to ice balls. Timely caring is essential to maintain paw health. Do your pet a favor and get a good quality dog paw moisturizer. It prepares your pet to put his best foot forwards.
The pet paw moisturizer helps in preventing several long-term problems. It prepares your dear fur-friend for great adventures in the outdoors. They can also enjoy longer playtimes without hurting. Dog's emotional health and dating is also important.
Sometimes, dogs too have smelly feet due to bacterial infection. A good dog paw balm easily solves this problem.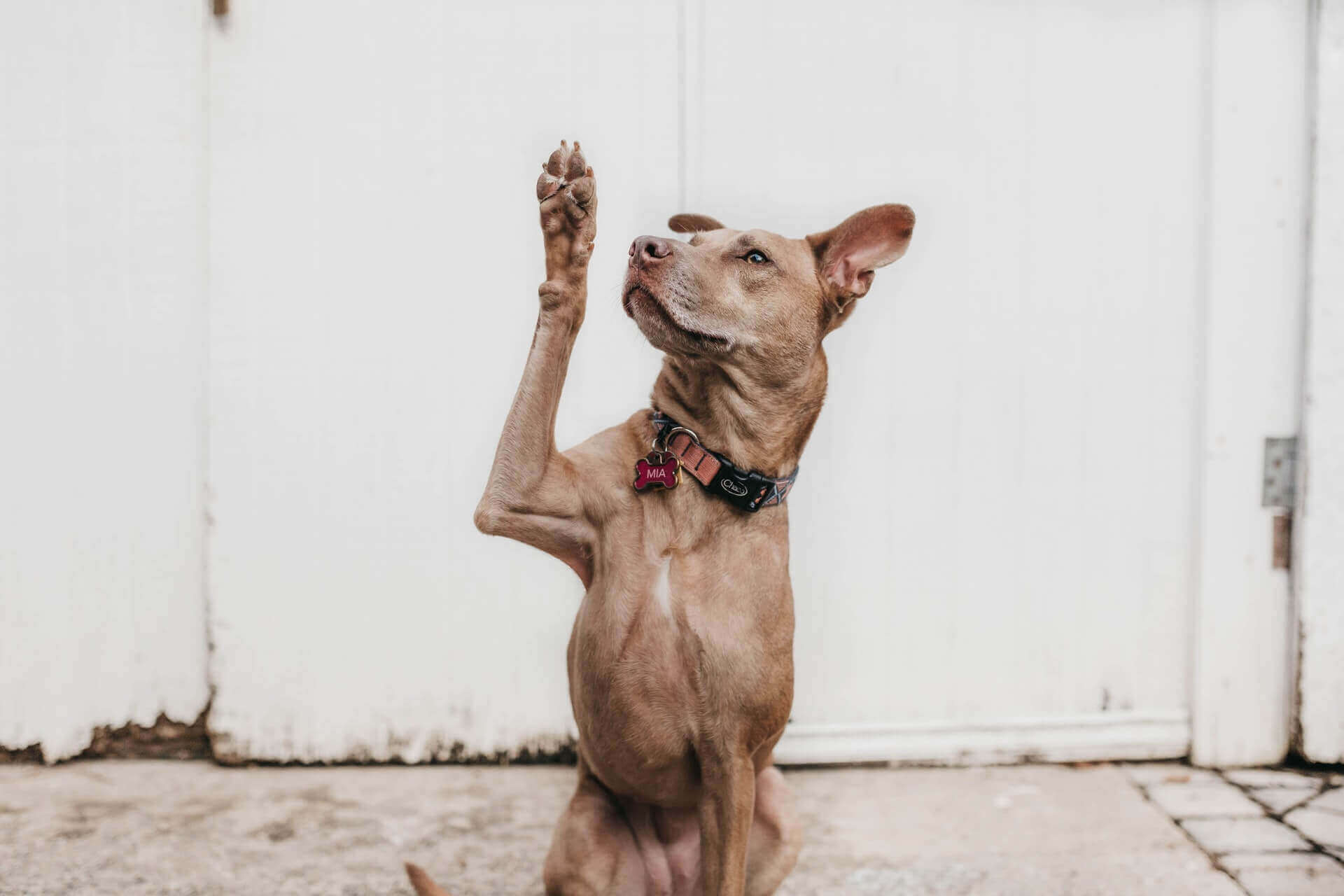 How To Moisturize Dog Paws?
The first rule is never to use your personal moisturizer on your dog's paws. Some pet parents do use vaseline, but it may not be the right option. You should get products that especially use pet-safe ingredients.
Apply the dog paw moisturizer with gentle, yet prolonged rubbing. This ensures that the paws absorb the soothing balm well. This is important because it can be difficult to prevent your dog from licking his paw.
Winter times are particularly hard. The snow stuck with the fur on the paws melts and then refreezes.
This leads to the formation of ice balls between the toes. These stretch the toes making it difficult to walk.
The ice balls also cause abrasions and cuts. You need to apply the dog paw balm before the walk to prevent this. It acts as an invisible barrier between the snow and the soft tissue of the feet. Also, pet owners need to groom the paws often to remove the excess fur.
In addition, the salt spread on ice can cause a burning sensation. Don't forget to wash the paws of your pet in warm water to ensure that he is protected in the cold.
During the summer season, walking on hot asphalt causes scalding. Keep a jar of dog paw moisturizer handy. It provides great relief to those weary feet.
If you find your pet chewing or licking his paws, pay attention. It might be due to something lodged in between their toes. Timely attention can prevent a greater infection.
Are Dog Paws Supposed To Be Rough? Should I Moisturize My Dog Paws?
Dog paws can be rough or soft. It depends on the level of activity that the paws undertake. Does your dog walk often on rough terrains like asphalt or concrete? It results in the formation of protective calluses on their feet over time.
On the other hand, if your pet is mostly an indoor dog, the paw pads retain their 'puppy softness'. In either scenario, moisturize their paws often with a good dog paw moisturizer. The ointment works as a protective barrier against harsh conditions.
You should examine their feet up close. Are the pads under feet tough and showing signs of peeling? It may be the symptoms of a disease called canine hyperkeratosis.
It causes an excessive deposit of keratin on paw pads or the nose. This in turn causes thickening to the point of cracking. Hyperkeratosis aggravates the possibility of secondary infection.
Several underlying causes may result in this condition. For breeds such as the Labrador or Irish Terrier, it can be genetic. In senior dogs, it can be an external symptom to a liver or pancreatic disorder.
Hyperkeratosis can develop as an auto-immune response. Zinc deficiency in the diet is yet another reason. At times, it can be due to a parasitic infection or canine distemper.
A dog paw moisturizer softens the hard keratin deposits. It effectively helps with softening the hardened tissue. This in turn aids with deeper penetration of the dog paw antibiotic ointment.
Are Dog Paw Moisturizers Safe To Use?
A commercially available dog paw lotion is made of food-grade ingredients. It is safe if your pet ingests it. Nevertheless, excess ingestion can result in food intolerance or allergies.
Does your dog show symptoms such as vomiting or diarrhea? You should try a different brand of dog paw moisturizer. Also, keep a lookout for signs like excessive tenderness at the paws.
The catch is to avoid excess use. Too much moisturizing can cause the paws to soften. Soft paws might make them more prone to wear and tear.
Top 5 Best Dog Paw Moisturizer
Here, we review top canine moisturizer brands. It should help you arrive at an informed decision. We will also provide you with natural dog paw moisturizer recipe ideas.
Keep reading.
Packed with natural ingredients, this paw butter is well worth a try. It offers the promised relief from dry and cracked paws. The ointment consists of olive oil, mango seed extracts, and orange peel wax. Aloe vera and oat kernel extract are also found.
Other major ingredients are sunflower seed oil and safflower seed oil. The product is rich in beeswax, and coconut oil.It is also rich in Vitamins C and F.
Take a little bit on your fingertips and gently massage before going for a walk. It works miraculously in softening the paw pads.
However, you should be on the lookout for signs of allergy with this dog paw moisturizer. Most dogs adjust to it well, but in some instances, the reactions can be adverse. Also, don't apply it in excess because the softened pads become more susceptible to cuts.
This well-known product acts as 'invisible boots'. They use beeswax and Vitamin E as the key ingredients. Originally made to protect the paws of Canadian sled dogs, the paw wax is very effective. It uses food-grade waxes and has a non-toxic formula. It is also gluten-free and a non-GMO puppy paw moisturizer.
This is the best dog paw moisturizer as it is mostly non-allergenic. It absorbs very well and does not cause stains on the carpet. It offers all-season protection, whether in summer or winter. It is semi-permeable and does not clog the sweat glands.
Use a small quantity of the dog paw moisturizer and rub on the paw pads. Don't forget to apply between the toes, particularly in winter.
It also offers substantial relief from hyperkeratosis. This is in general pet-safe, but sometimes dogs do have an adverse reaction. Do not use it much too often or in too much amount.
The main ingredients of this product are rosemary and olive oil. Their formula has the perfect pH balance suitable for dogs. This natural solution offers gentle protection for those precious paws.
It does not contain any sulfates, colorants, artificial fragrances, or harsh chemicals. This dog paw burn ointment lovingly heals the crusted skin with regular application. It is a 99.7% natural formula made in the USA.
Happy pet owners even recommend its use over allergic skin rashes with great results. It has a mild formula offering significant healing for distressed pets.
The only downside of this dog paw moisturizer is that it is not a thick ointment. This means that you might need additional support from a denser balm.
The vegan formula of this balm stick does a world of good for serious paw conditions. This dog paw moisturizer natural ingredients include the best of Mother Nature. It consists of cocoa butter, coconut oil, hemp seed oil, and calendula extract. It also consists of natural Vitamin E and jojoba oil.
It is effective in moisturizing cracked paws. The balm helps with dry elbows, and healing scars or wounds. The best time to apply this dog paw moisturizer is before bedtime. The paws will remain slick immediately after application. You must permit some time for them to dry.
Remember to clean the paws before application. If possible, clean them in a bowl of lukewarm water. Wipe them dry and then apply the balm.
The natural ingredients are pet safe. It poses no harm if your dog licks the paws. That said, and I repeat, you should always be on the lookout for allergic responses. Every dog is unique and there is no universal dog paw moisturizer formula that suits all.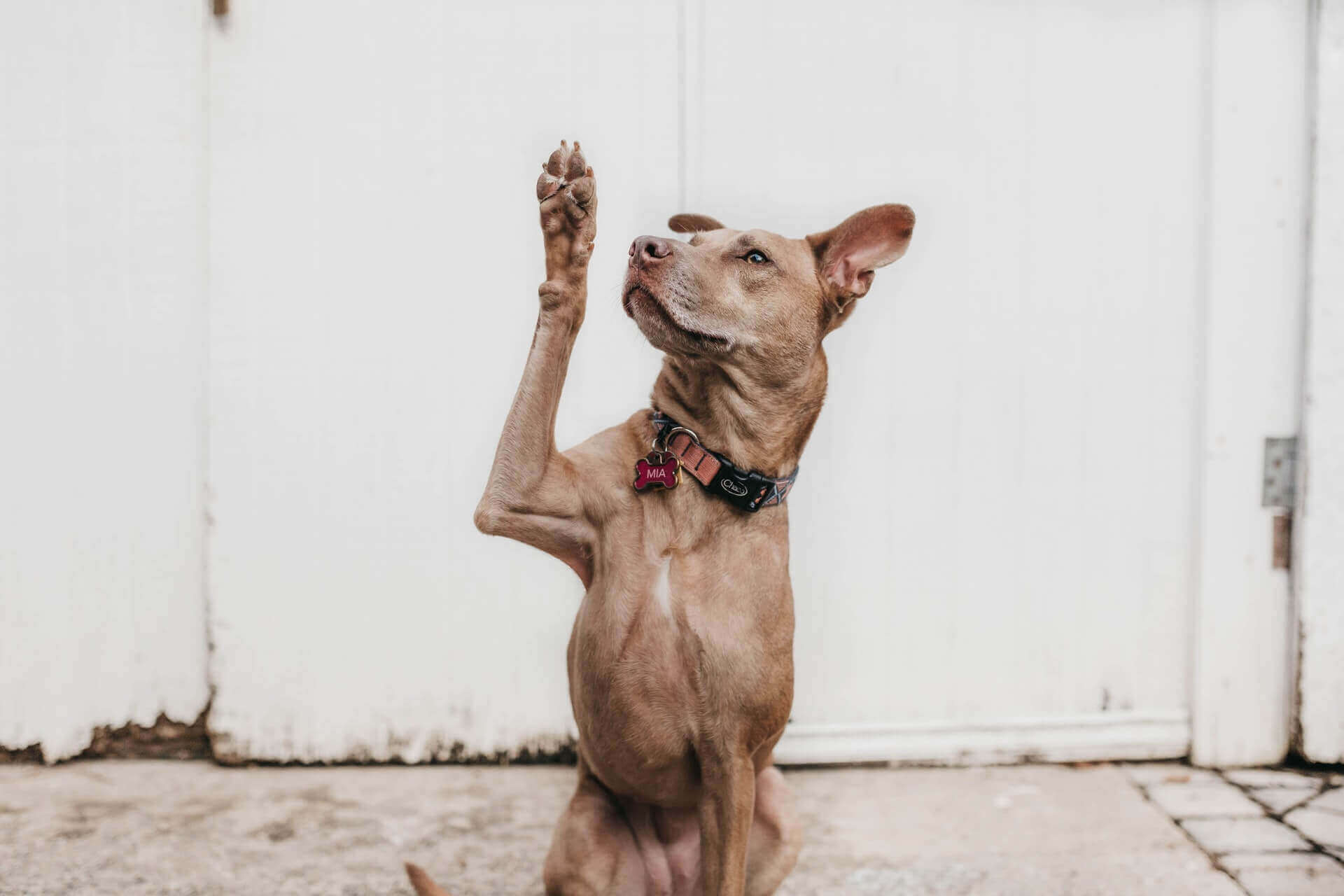 This award-winning moisturizer consists of all-natural ingredients. Made in the USA, and backed by USDA certification, this is a 100% organic product. You have the guarantee that there are no secret ingredients besides the ones listed.
The premium dog paw burn ointment consists of the goodness of organic shea butter and jojoba oil. It is further enriched with calendula extract.  Other ingredients are hemp seed oil and beeswax.
It is completely pet-safe. It offers miraculous relief from crusted, wounded, or tender paws.
The non-toxic and hypoallergenic formula is widely recommended by happy pet parents. This dog paw moisturizer is a winner of the 2020 family choice awards. It does not consist of sulfates, parabens, alcohol, or artificial flavors. It has a pleasant natural smell to it also.
The manufacturers use socially responsible practices to create an eco-friendly product. All ingredients are sustainable and locally sourced. The production process is free of animal cruelty.
Dog Paw Moisturizer DIY
Many concerned pet owners prefer to adopt a fully holistic approach. You can always try the DIY ointments if you do not want to use the dog paw moisturizer products mentioned above.
Do you have a hyper-sensitive pet? The home remedies mentioned here will solve your problem.
All the ingredients of dog paw moisturizer diy are available online. You can even get them from your local store.
Start with the supplies. You will need a double boiler to prepare the mix. Those who do not have it can make one by placing a mason jar in a large pot of water. Also, stock in a set of six ounce tin jars to store the ointment.
How To Moisturize Dog Paws Naturally? 
Get the ingredients for the homemade dog paw moisturizer. You will need olive oil, sunflower oil, or sweet almond oil. You will also need coconut oil, shea butter, and beeswax.
Here's the dog paw moisturizer recipe.
Take two ounces of olive oil, sunflower oil, or sweet almond oil. Add two ounces of coconut oil and one ounce of shea butter to the mix. Finally, add four teaspoons of beeswax. Melt this concoction over low heat. You need to stir it so that the beeswax melts without leaving pellets.
In some time, your natural dog paw moisturizer should be ready. Carefully pour the mixture into the tin jars. You might want to wear protective gloves because it would be scalding hot. Let the condiment cool at room temperature.
You might use Vitamin E oil instead of sweet almond oil. You can also try another alternate recipe of dog paw ointment diy. Just use essential oil such as lavender extract with the ingredients mentioned above.
It is safe for dogs and also calms them down.
Can I Put Vaseline On Dogs Paws To Moisturize?
Some folks ask should dog paws be moisturized using vaseline. Actually, no, you should not. It may be tempting to use vaseline as a quick fix remedy. But, it contains many chemicals that are not good for pets.
It may do the trick temporarily, but in the long-term pets can have allergic reactions. Instead, get yourself a jar of any of the products mentioned above. Of course, you can also try the homemade recipe if that is more appealing to you.
Can I Use Coconut Oil For Cracked Dog Paws?
Yes, you can use coconut oil for dog paws. It is amazingly beneficial in relieving sore paws. Many veterinarians recommend this natural dog paw moisturizer for holistic care.
Apply it topically on cracked or sore paws. You will be surprised at the healing power of this plant extract. The paw pads absorb it quickly and it does not form stains on the carpet.
It can help with healing if your dog has burns on his paws by walking on asphalt. It has proven antibiotic properties.
For best results, apply it on the paws before bedtime. This allows sufficient time for this natural moisturizer to take effect. You can also put it on the paws before taking your dog for a walk.
Why You Should Keep A Jar Of Coconut Oil For Pet Care?
It is hypoallergenic and easy to digest. Dog paw moisturizer coconut oil consists of several beneficial components. It is an abundant source of Medium Chain Triglycerides that helps with digestion. Some studies also indicate that MCTs improve mental functions in older dogs.
It is also anti-inflammatory. This means the oil can help dogs with irritation in the digestive system. It also prevents the overload of harmful bacteria in the stomach.
However, despite all the goodness, you should not overdo it. Maintain your wisdom about how much is good for your pet.
Health condition
Health benefits of coconut oil
Dry and Itchy paws
It contains plenty of water that moisturizes the paws. No wonder, it is a major ingredient in the natural dog paw moisturizer recipe mentioned above.
Bad breath
This magical natural extract is good for the dental hygiene of pets. It helps with removing bad breath by killing germs lodged in the mouths of dogs.
Obesity
The MCTs in coconut oil balances the thyroid level in the body. This makes it a great weight management tool. It also increases metabolism.

 

Dry fur
You can apply the coconut oil topically on the fur. It helps improve fur condition. This home remedy dog paw moisturizer also removes fleas and ticks from the fur.

 
Dry Dog Paws Home Remedies
For the easiest dog paw moisturizer at home, you can use warm water to wash the paws. Add a few bags of chamomile tea or lavender extract to it. Apply it by soaking a towel in warm water.
Here are a few other tips.
Dog Boots 
Dog booties are great to keep the paw pads healthy. It prevents direct contact with the ground. This helps in protection from harsh conditions in summer and winter.
However, you will have to spend some time teaching your dog to wear these. Have patience because booties can make pets feel disoriented. Paws are vital organs that help dogs to judge the surrounding. Wearing a boot takes some time to adjust. Maybe even try a therapeutic one if normal ones don't work.
You should always get booties with good traction.
Dog Paw Pads
Dog paw pads or disposable booties are advisable if you plan to use these temporarily. Your pet can wear these for some time before they become unusable.
Oatmeal Paste
The oatmeal paste is a good remedy for itchy paws. You can apply it directly on the paws before bedtime. This dog paw balm diy is also good for treating skin conditions.
Take a handful of dry oats. Grind them into a powder. Hold it in a piece of cloth to prepare a compress. Gently massage the toes with it.
What May Cause Dry Dog Paws And How To Identify Early?
Pets who walk on rough terrains usually develop dry paws.
See if your dog is licking or chewing the paws. Regularly inspect under their feet to look for flaky skin and sore paw conditions. Paws may suffer from discoloration if they develop an infection.
Pet them enough and look for early signs.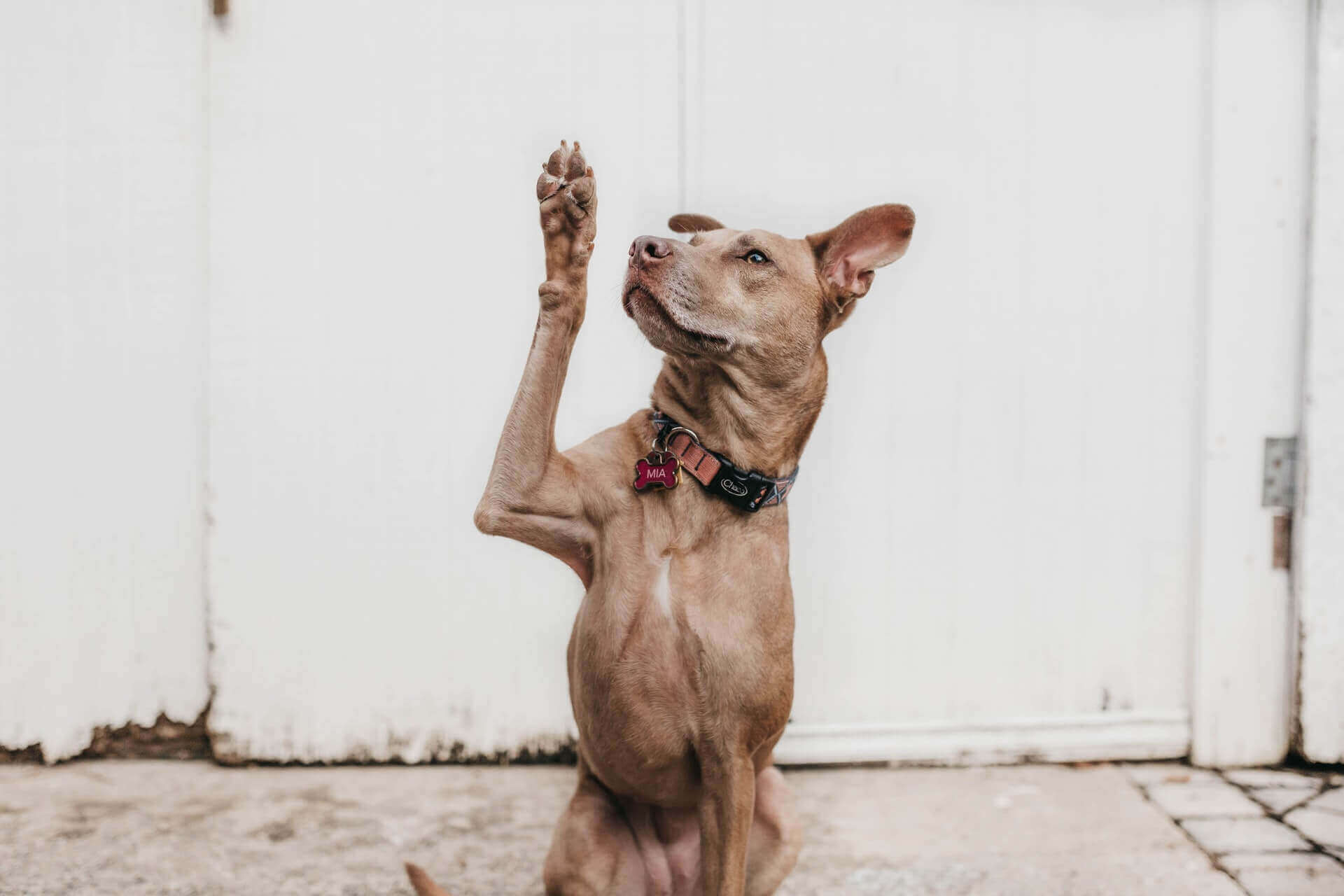 Takeaway – Dog Paw Moisturizer
A good dog paw moisturizer is essential for pet care. It keeps their paws healthy in the long-term. It also helps dogs lead an active life.
You can try out the products reviewed here. Home remedies such as coconut oil and oatmeal paste are highly beneficial as well. Make sure your dogs eat the right food and take them on regular walks, after moisturizing their feet.
Be 'paw-sitive'. It helps.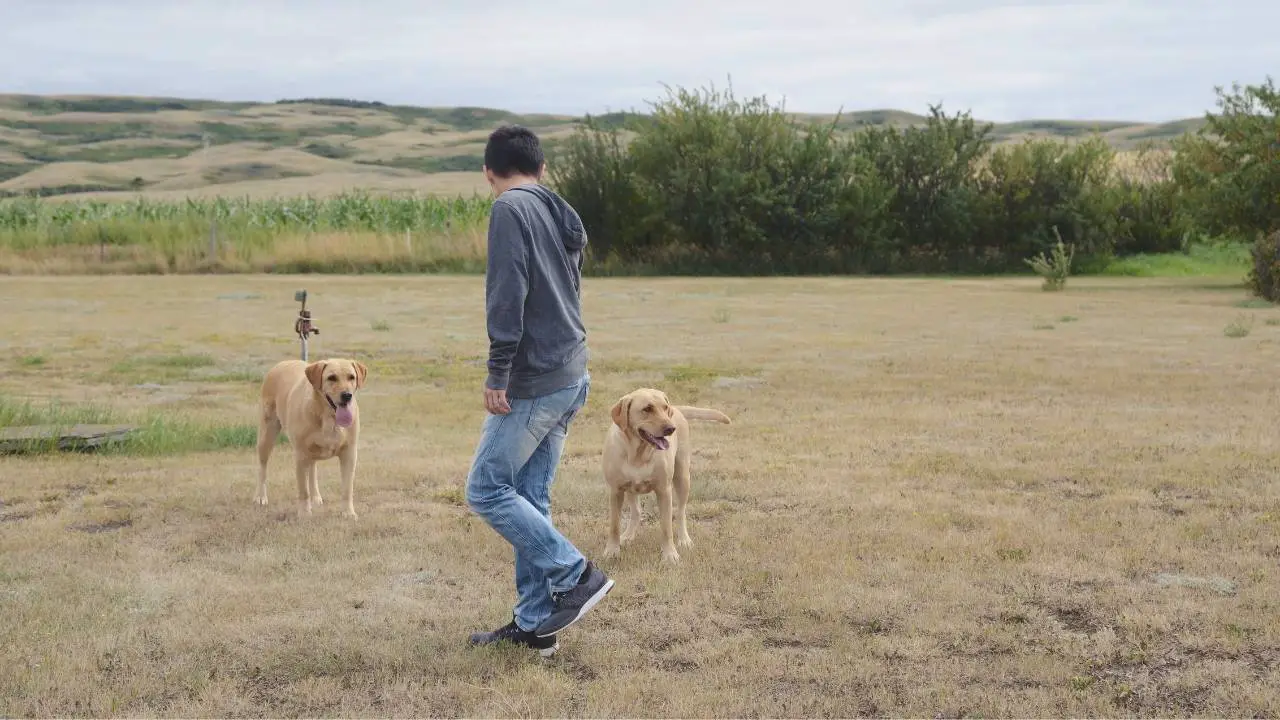 Welcome to Learn About Pet. My name is Rajkumar Ravichandran and I love all pets, travel, and amazing food. I write about my passion and personal experience caring for multiple pets in this blog! ❤️
Post Disclaimer
DISCLAIMER: THIS BLOG OR WEBSITE, "Learn About Pet", DOES NOT PROVIDE YOU WITH MEDICAL ADVICE AND IS NOT A SUBSTITUTE FOR MEDICAL ADVICE. ALWAYS GET IN TOUCH WITH YOUR PERSONAL VETERINARIAN AND USE INFORMATION HERE AS GENERAL ADVICE.
The information, including but not limited to, text, graphics, images and other material contained on this website are for informational purposes only. No material on this site is intended to be a substitute for professional veterinary advice, food recommendation, diagnosis, or treatment. Always seek the advice of your veterinarian or other qualified health care provider with any questions you may have regarding a medical condition or for pet food related questions.