Chihuahuas are little, feisty wonders. Our favorite fur-babies need a lot of extra care. Are you in the Northern or North Eastern part of USA? Are you in the Tristate and own a pet? Then, your winters may already be busy. Among other things, you might need to shop for the best winter coat for Chihuahua to keep them warm and healthy through punishing winter. Pet-owners can find plenty of great options online.
I'm sure the winter is fast approaching and you want to prepare your furry friend for it with comfortable clothes. So, go ahead and purchase winter coats for your dog.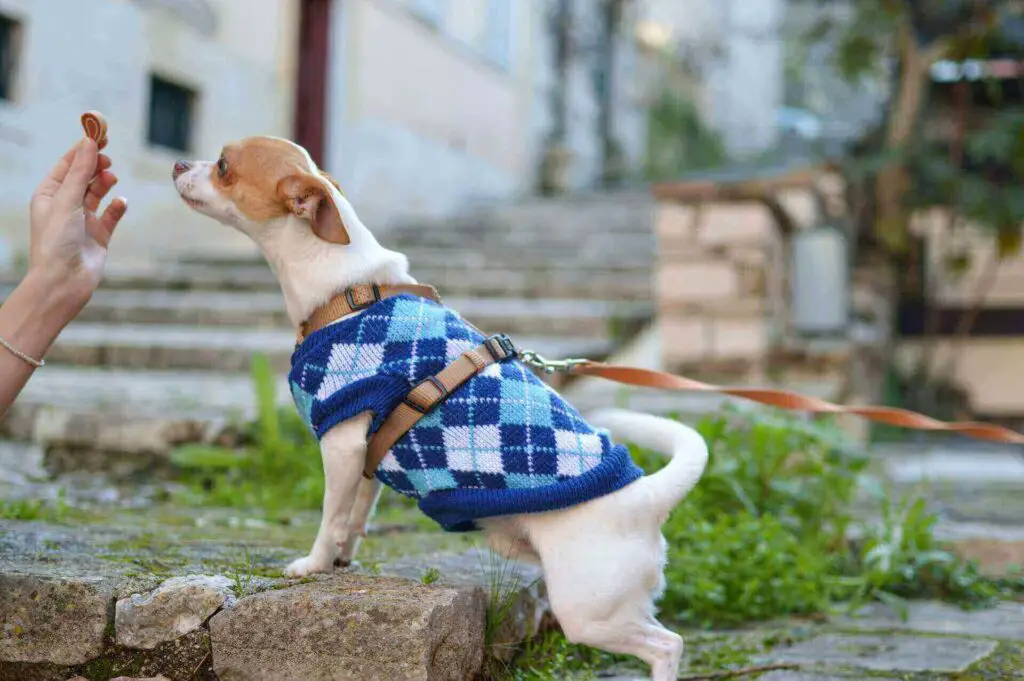 For those who want to empower yourself with more knowledge, please scroll to read more.
Do Dogs Need Winter Coat?
Some pet parents aren't so sure whether their dogs need a winter coat. Clearly, they have never owned a Chihuahua! Nevertheless, a winter coat is indeed an unnecessary luxury for some breeds.
When you have a furry breed, the additional layer of warmth can be uncomfortable. The same goes true for highly active animals. While you pick the best winter coat for a dog, use pet-first thinking. Sometimes, your fashion-first approach might not be appropriate for the pet.
Figure out whether your pet really needs one. A general rule is to observe if the cold is being too hard for the dog. Getting a coat is a good idea when the dog is shivering when you go for the daily walk. Keep a close eye on signs of distress.
These include limping, slowing down, seeking warmth, or behaving anxiously. This is particularly important for older pets as they tend to be less active. Look for the best warm winter dog coat for Chihuahua from a credible online retailer.
Dogs have a natural heat regulation system. This means that their bodies generate heat to stay warm. Older dogs with weakened immune systems cannot generate enough body heat.
Chihuahuas are relatively active breeds. Despite that, their small size makes them particularly vulnerable. Their bodies cannot generate sufficient heat to stay warm. This is the reason why it is always advisable to look up the best winter coat for Chihuahua.
What Dog Breeds Need Winter Coat?
So, it's settled that you need the best winter coat for Chihuahua. The same is true for other toy breeds. These include Pugs, Toy Terriers, Miniature Pinschers, and French Bulldogs.
You should also get a coat for breeds that sit low to the surface. For example, consider the Pembroke Welsh Corgis. Their undersides would brush against the cold ground when they sit.
Some breeds may have natural long hairs, but they still need extra protection. This is especially true when their hair is shorn due to grooming. You should check out the best rated winter dog coat for Chihuahua.
Whippets and Greyhounds have naturally short hair. They are also ideal candidates for a warm jacket.
Northern breeds have high fur density. Furry breeds include Siberian Huskies, Pomeranians, Newfoundlands, Chow Chows, Havanese, Komondors, and Alaskan Malamutes. Nature has graced them with natural protection against the cold.
Even for breeds that need a coat, you should be aware of the when and why. Take it off at times and let them be if you find them uncomfortable.
How To Pick the Perfect Winter Coat For The Dog?
Keep a few aspects in mind as you try to decide the best winter coat for Chihuahua. Point number one, it has to be comfortable. Next, it has to be stylish. Also, the coat should not be obstructive.
Refer to the size guide from the manufacturer. When in doubt, always buy a coat that is one size bigger than the size of your dog. If you are still, unsure, always check the return and refund policies of the company.
Waterproof Dog Winter Coat
These coats are suitable if your pet's long hair tends to get muddy from the molten ice on the ground. Some Chihuahuas tend to have this problem. The ends of their furs can also get wet while walking on the dewy grass.
Do you receive a lot of rain and snowfall at your place? If so, consider buying the best winter coat for Chihuahua in the waterproof category.
Insulated Dog Winter Coat
These are the ideal options when your pet needs to retain his body heat. Insulated coats do not allow heat to escape. These are very useful in severe winter. However, you should maintain caution to avoid overheating.
While buying a coat, also check its washing instructions. Generally, the apparels are designed in such a way that they do not get wet or soiled when the pet has to stop for toilet. Even then, if the coat gets dirty, it should be easily washable.
Reflective Strips Winter Coat
These coats are ideal when you go for a night walk. The reflective strips glow in the dark. They also make the pet appear uniquely stylish.
In buying any winter coat, you should always keep a look for allergies. Sensitive pets can have allergic reactions such as itching, rashes, and even diarrhea.
Choose Perfect Coat Size and Length for Dogs, So It's Not Too Tight
The best winter coat for Chihuahua is the one that fits snugly. It should not be too tight, yet offer good warmth.
The apparel should not restrict the natural movement of the animal. Neither should it make it problematic for the dog to stop for toilets.
The top winter dog coats extend from the shoulders to the base of the tail. It should cover the back and belly portions of the dog.
Zippers can get stuck with the fur or skin, causing discomfort. Apparels with velcro straps are the best options. Even for straps and fasteners, pay attention to their position in the dog's body. They should not get in the way of your pet's mobility.
If there is a zipper, you should always check where it is placed. Find out if there is a protective flap preventing accidental pinching.
Check for Coat's Tightness in Dog's Neck and Armpit
There are no standard sizes for these coats. Manufacturers make them available according to the different neck and chest sizes. You need to measure your pet. Here is how to do that.
First, measure the circumference of your dog's neck. Next, note down the chest size. Finally, run the measuring tape from the shoulders to the tail base. These three specifications will make it easy to buy the best winter coat for Chihuahua.
For pups, you should consider their growing age. As a general rule, get a coat that is at least one size bigger. This would ensure that you can use the coat for subsequent years. Don't buy a coat that's too loose though. It might fall off your dog.
Fortunately, manufacturers always provide photos of how the coat looks when it's worn. It should help you to decide on the right product. Besides, you should read reviews by other pet owners.
Make an informed decision. Go for the best whether you are looking for coats, jackets, parkas, or the best dog winter sweaters for Chihuahua.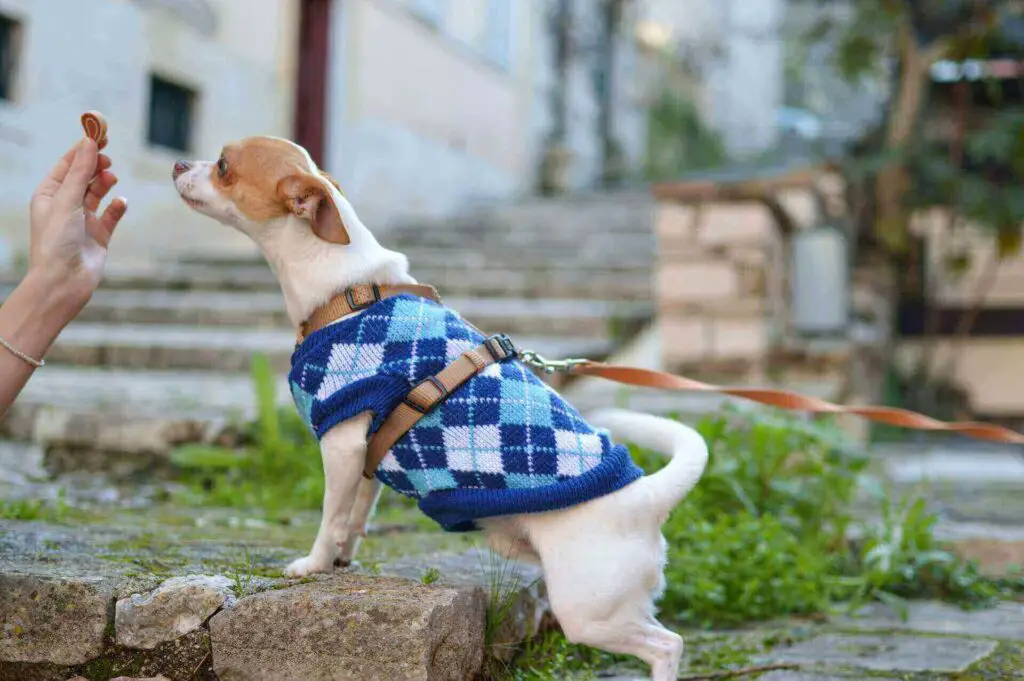 Best Winter Coat for Chihuahua
The American Pet Products Association (APPA) is a seminal organization. They keep track of how much we value our pets. Their research indicates a great preference to shop online. Forty percent of respondents stated that they prefer sites such as Amazon. It has some of amazing options to buy the best dog coats for USA winter.
Go ahead and gift your pet a nice jacket this holiday season. Here's the list of the best winter dog coat 2021.
Kurgo Dog Reversible Winter Jacket
Join the club of so many satisfied pet-owners who have bought this jacket. The product is available in a wide range of color options. It's a great product overall but does have a few cons.
| | |
| --- | --- |
| Pros | Cons |
| Lightweight and waterproof | The backside might pop up when the dog bends his head low |
| Reversible, two color options in the same jacket | The standard size is best for big dogs, may not be the best winter coat for Chihuahua. Make sure that you buy the small or extra small size for your little one. |
| Has a zipper on the back for harness | You should be careful to avoid the zipper getting stuck with the fur |
Vecomfy Winter Dog Coat
This nice and comfy apparel is considered the best winter coat for small dog Chihuahua by many. It fits in nicely and allows enough space to move.
| | |
| --- | --- |
| Pros | Cons |
| It has a very soft cotton and fleece lining. It is washable. | Cotton and fleece tend to get damp. So, it may not be the best choice if you need a fully waterproof coat. |
| Has a cute hood | The hood may cover the entire face if you own a small breed. |
| Use the snap to use the hood as a collar when you are not using it. | Some owners may not like snaps on dog coats. |
| Available in a variety of sizes and colors. | You should refer to the size chart to avoid disappointment. Choose by the chest measurement. |
| It does not have a zipper. You don't have to worry about zips interfering with the fur. | It does not have velcro. Some owners prefer velcro to choose the best winter coat for Chihuahua. |
WeatherBeeta Comfitec Reflective Jacket Parka
Pet-owners looking for a smart-looking pet-jacket usually go for this one. Check out the pros and cons to decide if it is the right one for your dog. Overall, it is one of the best winter dog jackets for Chihuahua available on Amazon.
| | |
| --- | --- |
| Pros | Cons |
| Waterproof and breathable | It's a middleweight coat at 220 gm. You can have lightweight alternatives. |
| Fits in snugly with velcro straps. If you are looking for the best winter coat for Chihuahua, this might be the one. | The front straps can slightly restrict mobility for dogs with narrow chests |
| It looks very smart with the collar and all. The reflective material is perfect if you are taking your dog for a night walk in the woods. | Does not have many color options |
PetBobo Dog Down Jacket With Hoodie
It's one of the cutest jackets you can get. Most owners regard it as the best winter coat for Chihuahua. It looks great in beige or orange, but there should be more color options.
| | |
| --- | --- |
| Pros | Cons |
| It is a nicely fitting jacket. Just make sure to order the right size. | Does not have an opening at the back for the leash. |
| It is waterproof. The soft material keeps your pup warm even in the toughest winter. | The faux fur on the hood looks wonderful but it can get wet. |
| It has arms. | The arms can restrict mobility, but you can just keep them rolled. |
Gooby Padded Dog Vest
This trendy outfit is one of the best winter dog coats for Chihuahua. According to the manufacturers, this product is especially suitable for small pets. It's because the design allows your pet to relieve himself without soiling the jacket.
It is very easy to get it on the dog. It is easy to take off also. Your Chihuahua would surely love it.
| | |
| --- | --- |
| Pros | Cons |
| It is waterproof and considerably warm. It can be the right choice while shopping for the best winter coat for Chihuahua. | Inner fleece lining can be slightly soggy due to sweat |
| They have a zipper system at the back, but it comes with a protective flap. This prevents accidental pinching of the fur or skin. | The zipper may not be a durable one. |
| You don't need an additional harness to put the leash. | It is not made of reflective material. This can make it unsuitable if you prefer to go for night walks with your pet. |
PetCee Waterproof Windproof Fleece Jacket
This PetCee product is one of the most lightweight jackets reviewed here. It weighs only 7.04 ounces. It has waterproof nylon on the outside and thin fleece lining inside. One of the best features of this jacket is the elastic vest.
It is definitely a good contender for the best winter dog coat USA for Chihuahua.
It has a lofty collar design, making it a fashionable one. The rubber band for the tail does not get loose. It is very easy to put on the pet. All you have to do is attach the velcro nicely at the neck and the belly.
It has a reflective strip for night walks with your pet. Refer to the size chart to get the right one. The adjustable velcro makes it easy to fit in your pup. It is the best winter dog jacket for Chihuahua, if you usually have trouble finding the right size.
It effortlessly ensures a compact fit even for a chubby pet. You can surely take it as the best winter coat for Chihuahua.
Many pet-owners do not prefer velcro because it mingles with long furs. Also, the inner fleece lining can get slightly damp due to sweat.
Zack & Zoey Polyester Dog Blanket Coat 
It is cute and comfy. The coat has an outer polyester surface of solid color. Several color options are available. Inside, it has patterned fleece lining.
It is reversible. Both sides are comfortable. It is up to you to decide which looks best for the morning walk. The only slight downside of this product is that it does not cover the neck as much.
This coat has a special feature that most other products lack. The manufacturers have put in a conspicuous paw print on its side. Many proud pet-owners consider this as the best winter coat for Chihuahua.
It is available in all sizes. So, make sure you are referring to the size chart to avoid disappointment. It is easy to put on with neck and belly velcro closures. Unless you have an issue with velcro, this is a great option.
Think Pet Reversible Warm Dog Coat
This is the perfect apparel when you are checking out the best dog coat for winter. It is made of polycotton. This super-soft product is especially suitable for smaller breeds. It also has reflective piping which is very useful for walking your dog in the dark.
The versatile coat is reversible, allowing two variations in the same product. Elastic and hook and loop fastener under the belly makes it easy to put it on or take off. The zipper system on the back makes it easy to put on any kind of leash to a harness. The position of the zipper prevents accidental pinching of the fur or skin.
The coat provides good belly coverage. However, it can be a little inconvenient for male dogs. The belly area can get wet when your pet has to relieve himself.
Queen More Cold Loft Reversible Winter Coat
It has all the features you would want in a good dog coat. It is reversible with an inner fleece lining. It is waterproof and has reflective piping.
The coat design includes a paw print on the side. This makes your pup look adorable. The only glitch here is that the coat does not have an opening to attach the leash. This is probably because it is intended for indoor use.
Migohi Reflective Reversible Waterproof Dog Jacket 
This reversible coat has a terylene outer layer. The inner layer is made of fleece. It is waterproof, windproof, and snow proof.
It is a stylish product. Enjoy the admiration your pet receives when you go for a walk. It also has reflective strips. The opening at the back allows you to attach the leash.
They also have a magic sticker arrangement that makes it easy to adjust the coat to the dog's size.
Takeaway – Which Winter Coat is Best for Your Dog?
So, what is the best winter dog coat? We have handpicked this selection here based on quality. All the products are great and preferred by numerous pet-owners.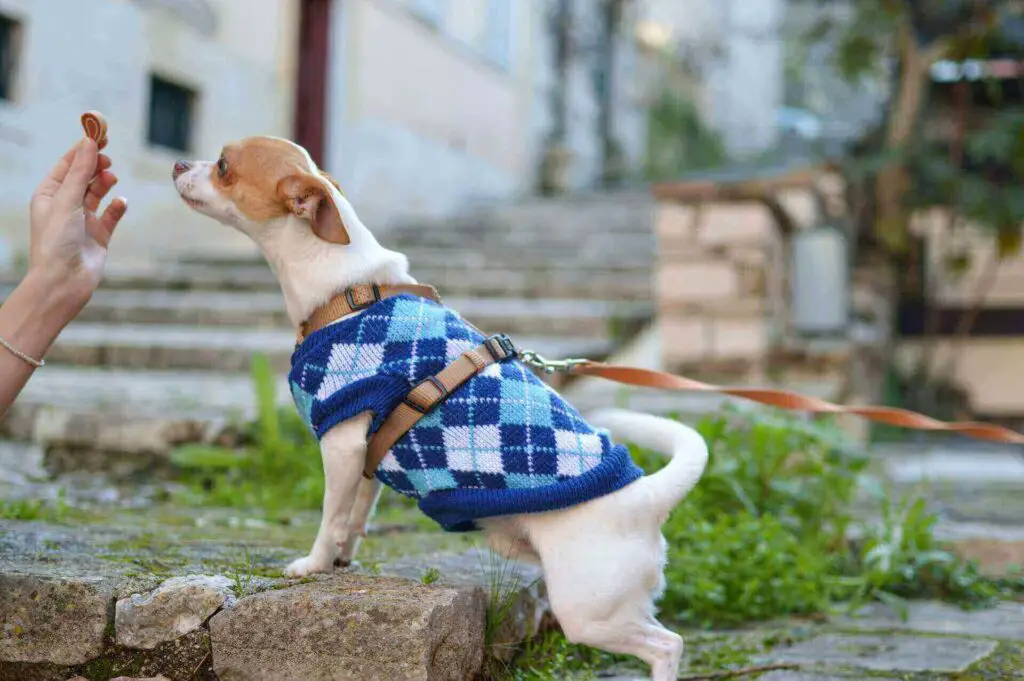 But, if we have to choose one, the award goes to Gooby Padded Dog Vest as the best dog coat for USA winter. It is definitely one of the smartest coats described here.
If dogs like to be your pet so much, you need to share the love in return by keeping them comfortable all through the year. You may even want to make sure their emotional health runs high by regularly taking them to dog dates.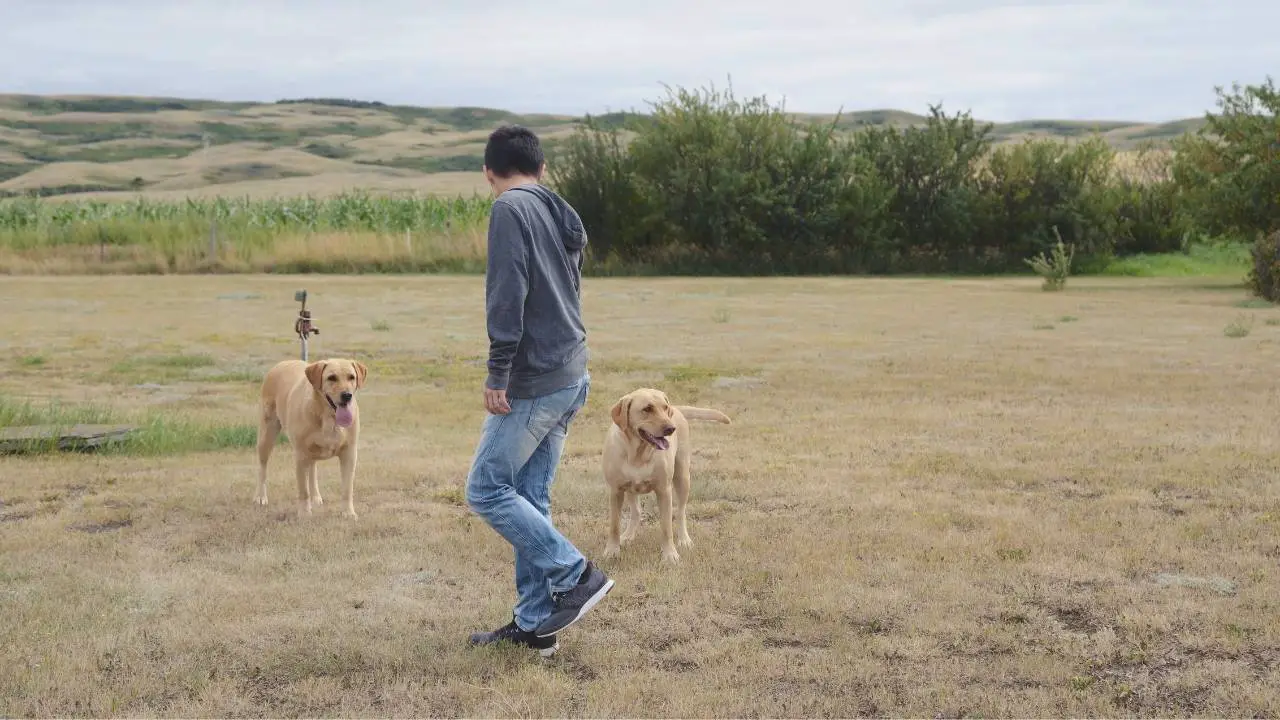 Welcome to Learn About Pet. My name is Rajkumar Ravichandran and I love all pets, travel, and amazing food. I write about my passion and personal experience caring for multiple pets in this blog! ❤️
Post Disclaimer
DISCLAIMER: THIS BLOG OR WEBSITE, "Learn About Pet", DOES NOT PROVIDE YOU WITH MEDICAL ADVICE AND IS NOT A SUBSTITUTE FOR MEDICAL ADVICE. ALWAYS GET IN TOUCH WITH YOUR PERSONAL VETERINARIAN AND USE INFORMATION HERE AS GENERAL ADVICE.
The information, including but not limited to, text, graphics, images and other material contained on this website are for informational purposes only. No material on this site is intended to be a substitute for professional veterinary advice, food recommendation, diagnosis, or treatment. Always seek the advice of your veterinarian or other qualified health care provider with any questions you may have regarding a medical condition or for pet food related questions.