For a long time, there has been skepticism and questions of whether or not Jicama is for dogs. Dog owners search to improve and diversify the dog diet to keep them healthy.
Can dogs eat Jicama? Yes, dogs can eat Jicama. Jicama is a brown root vegetable that tastes like apple, but from a bean family. Jicama is also called Mexican Yam or Mexican Potato.
Is Jicama good for dogs? Below, we look into what the Jicama plant is, is Jicama good for dogs, and if all of its parts are safe to the dogs.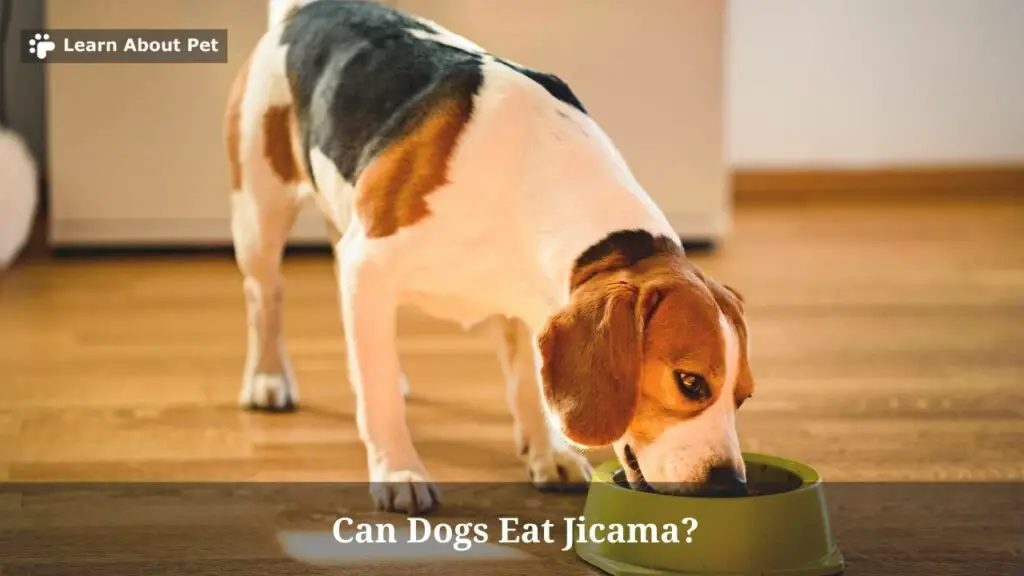 What Is Jicama?
Jicama is an unpopular root vegetable that is brown and thick with white insides that almost tastes like apples but not as sweet. Jicamas belong to the bean family. The vegetable also goes by the names Mexican yam or potato.
The tuber propagates from vines that can grow up to a length of 20 feet. The Jicama has been an edible tuber for centuries across Central America and is a native crop in Mexico and South America. But can dogs eat Jicama?
Can Dogs Eat Jicama?
Yes, dogs can eat Jicama. But, not the entirety of the plant is edible by dogs. The plant has different parts, and each of these parts will cause different reactions when served for the dogs to eat.
Jicama can be introduced slowly to dogs so that their digestive system can slowly adapt to the new food as you watch for any counter interactions with the Jicama. The Jicama may be safe for dogs to consume, but it may also turn out that your dogs may be allergic to it.
However, it is mandatory to consult with a vet before embarking on feeding Jicama to dogs. In case the Dog exhibits any abnormal signs and symptoms after consuming the Jicama, contact the vet.
Is Jicama Good For Dogs?
Yes, Jicama is suitable for dogs. Jicama is full of antioxidants like vitamin A, vitamin C, beta carotene, and selenium. The root is also rich in dietary fibers, potassium, and inulin.
These nutrients help dogs maintain a healthy immune system, cardiovascular and gastrointestinal systems. In addition, it has low calories and no fats make it very suitable for overweight dogs that are on a diabetic or a pancreatic diet.
Is It Safe For Dogs To Eat Raw Jicama?
Is Jicama good for dogs when in raw form? Yes, you can feed your dog raw Jicama. However, before you feed Dog raw Jicama, you have to make sure to remove all the seeds, skin, and leaves. These parts of the jicama plant are not healthy for the Dog hence should not be fed to the dogs.
You should prepare Jicama before you serve. Also, the raw Jicama may be difficult for the dogs to chew, or the dogs may not like its taste in the natural form.
In this case, cook Jicama before serving it to the dogs. It can be fried like potatoes or sauteed. Cooking the vegetable helps to alienate and control any digestion discomforts in case they occur.
Jicama can be served with Dog's chow by sprinkling or shredding the Jicama on the food. You can also do it in small bites. It is important to note that cutting Jicama into smaller pieces before serving it reduces the risk of choking or gastrointestinal blocking.
Can Dogs Eat Jicama Plant?
No, the only part that a dog can eat is the root bulb. So if you are growing the jicama plant in your homestead, keep the Dog away from the plant.
Do not let the Dog eat the leaves, seeds, bean pods, or chew on the skins of the Jicama. These parts of the Jicama are poisonous.
Can Dogs Eat Fresh Jicama?
Is Jicama for dogs? Yes, dogs can even eat fresh Jicama. This is the safest part of the plant that is sure not to cause harm to the dogs. Jicama can be served uncooked. You can also give after frying, just like potatoes.
If you want to give the Jicama a different taste by adding spices, it is safe to check the herbs safe for dogs before using it. When cooking the Jicama, be very careful to never overindulge in the salt and not add any garlic or onions.
Can Dogs Eat Jicama Sticks?
Yes, dogs can eat jicama sticks. You can give raw Jicama to the dogs after slicing them into small shapes like matchsticks.
Before chopping the Jicama into matchstick shapes, you must peel first. This is because the skin of the Jicama may contain rotenone. Rotenone is a naturally occurring compound found on the roots and the stems of the jicama plant.
Rotenone serves as an insecticide. This compound is likely to cause respiratory failure, depression, vomiting, lethargy, drooling, diarrhea, abnormal urination, constriction of the pupil, or muscle tremors if the dogs in any way ingest it. In case you notice any adverse symptoms, you must contact your vet.
This compound found on the jicama sticks is very toxic to dogs and can make them sick. Therefore, the precautions should be adhered to while preparing, cooking, and serving Jicama to dogs.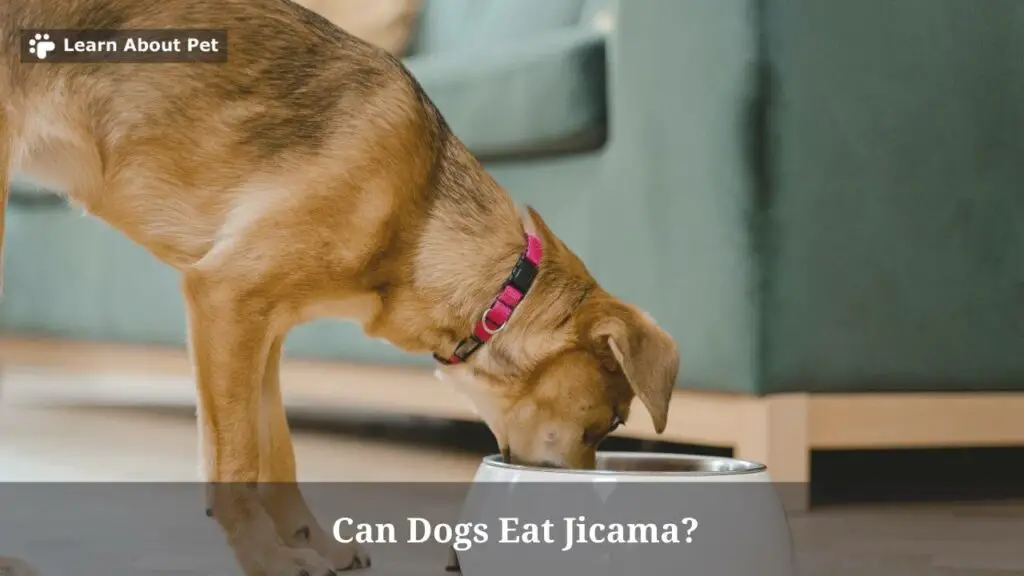 You can roast the sticks of the Jicama or even sauté them before serving them. If you have to use spices to enhance the taste, it is wise that you consult on the safe herbs to use for dogs. Avoid onions and garlic, and be liberal when adding some salt.
Can Dogs Eat Jicama Leaves?
No, dogs cannot eat the leaves of the Jicama plant. This is because the Jicama plant leaves are toxic and will make the dogs sick if they eat them. Thankfully, it is only the roots of the Jicama that are in stores.
However, if you have planted the Jicama in your homestead or you have an intention of growing them, never allow your dogs to eat the leaves of the plant. Keep them as far away as possible from the plant.
Is Jicama Bad For Dogs?
The only part of the Jicama that is edible by dogs is the root bulb. However, even with the root bulb, it has to be peeled. Every other part of the Jicama is toxic to dogs and will make them sick if they feed on them.
Therefore, Is Jicama good for dogs? The parts of the jicama plant are what determines if it is suitable for dogs.
Pros And Cons Of Jicama For Dogs
Pros

 

Cons

Source for antioxidants

Jicama has four essential antioxidant elements; vitamins C & E, selenium and beta carotene. These properties protect dogs from cell damage which is brought about by free radicals.

Toxic poisoning from leaves in the case that the dog accesses the leaves if the plant is the homestead.

Boost Cardiovascular Health

Jicama is rich in fiber and contains a high percentage of potassium. These elements improve heart health in dogs.

Toxic poisoning from rotenone that is found on the skin incase peeling of the skins is not done.

Promotes gastrointestinal health

The fiber in jicama, promotes efficient digestion and bulks the stool up making it suitable treatment for the dogs ailing from diarrhea.

Poisoning from the seeds.

Beneficial for healthy gut bacteria

The fiber called inulin in jicama feeds the dog's gut with healthy bacteria resulting in a well-balanced gut flora that positively impacts the weight, the immune system and the moods of the dog.

Potential digestive problems when introducing Jicama to the dogs.
Final Verdict – Can Dogs Eat Jicama
What is your take-home message? Is Jicama for dogs? Can dogs eat Jicama?
 It will be unfortunate if you fail to try out this food for your dogs because clearly, the benefits outweigh the bad. But, first, prepare it well, peel it and slice it into small pieces. Then, you could add it to their food or give it to them as snacks.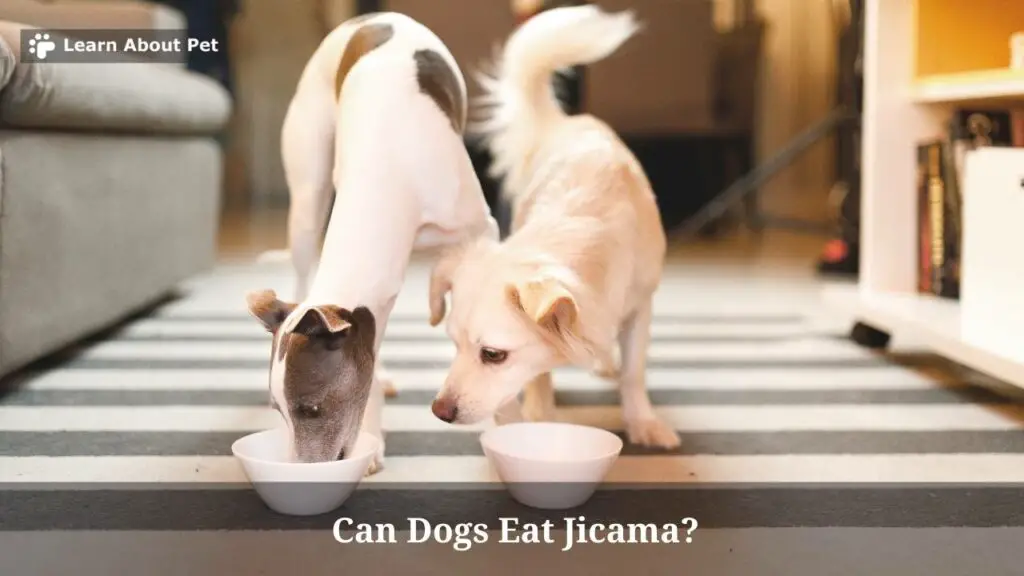 Also, if you have dogs in your homestead, it is not a good idea to plant the Jicama in your compound. If the plant already exists, you could either cut down or make sure that your dogs do not go anywhere near the plant.
Make sure to store the Jicama in cool temperature and controlled weather places to make sure to get good nutrition out of it when given to your dog.
If you notice any unusual reactions after feeding Jicama to the dogs, immediately contact your vet.
As a pet lover, make sure to learn about pet more and give your pet dog a good and comfortable life!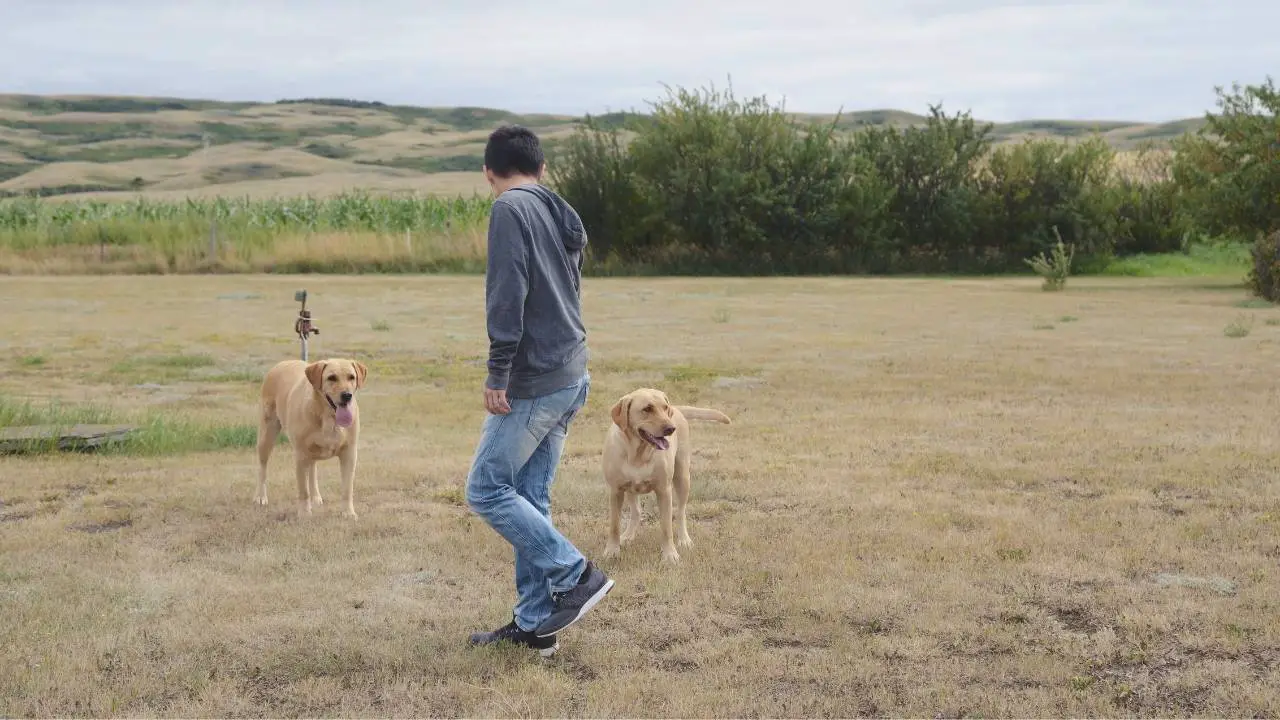 Welcome to Learn About Pet. My name is Rajkumar Ravichandran and I love all pets, travel, and amazing food. I write about my passion and personal experience caring for multiple pets in this blog! ❤️
Post Disclaimer
DISCLAIMER: THIS BLOG OR WEBSITE, "Learn About Pet", DOES NOT PROVIDE YOU WITH MEDICAL ADVICE AND IS NOT A SUBSTITUTE FOR MEDICAL ADVICE. ALWAYS GET IN TOUCH WITH YOUR PERSONAL VETERINARIAN AND USE INFORMATION HERE AS GENERAL ADVICE.
The information, including but not limited to, text, graphics, images and other material contained on this website are for informational purposes only. No material on this site is intended to be a substitute for professional veterinary advice, food recommendation, diagnosis, or treatment. Always seek the advice of your veterinarian or other qualified health care provider with any questions you may have regarding a medical condition or for pet food related questions.