'Breed like rabbits' is a famous English phrase rightly depicting the very high volume of birth rates of rabbits.
Naturally one wonders how many babies can a rabbit have in a year. Read on the discussions below, answering many such questions concerning the rabbits' general breeding traits.
Besides keeping Rabbit as a pet, it is reared for its low-fat meat, considered nutritious for consumption.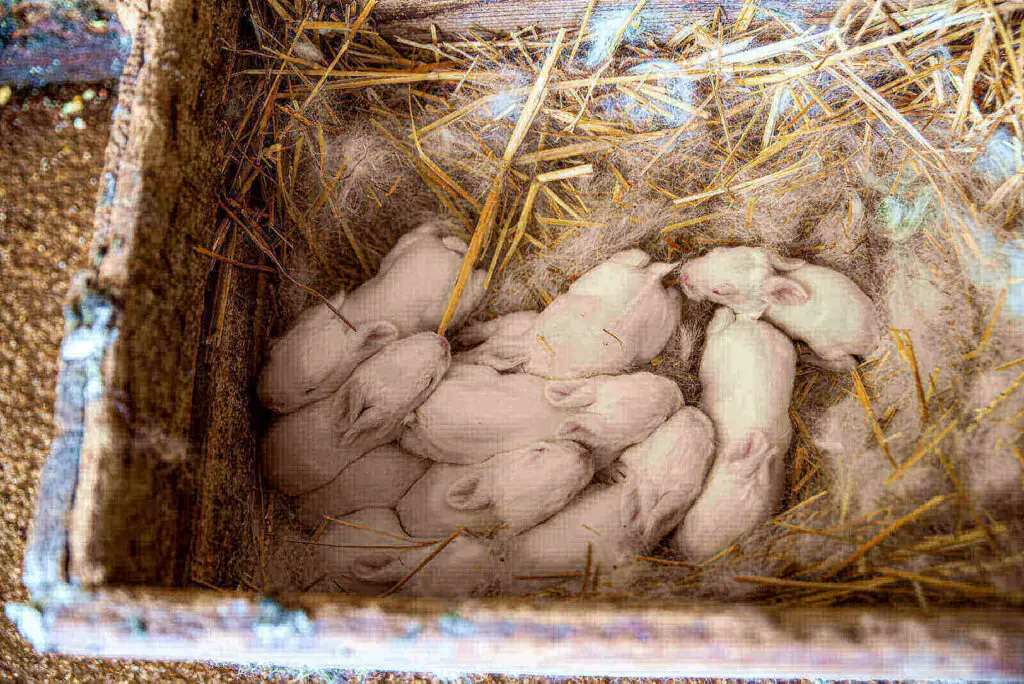 What Is The Average Life Of A Rabbit?
Domesticated rabbits on average live from 8 to 10 years. Some are reported to live up to 12 years. In the wild, life spans are somewhat shorter.
How Fast Can Rabbits Multiply?
You ask me "how often can you breed a rabbit" or "how often do rabbits breed"?
The average gestation period for a female rabbit (doe) is about 28 – 30 days. Rabbits are 'induced ovulators'. Meaning, a doe can start with a new breeding cycle immediately after delivering babies.
How Many Babies Can A Rabbit Have In A Year?
How many babies can a rabbit have in a year is important for breeding, both for pet lovers and commercial breeders.
People often ask how many times a year do rabbits have babies. Well with a gestation period of 28 -30 days, a doe can have 12 deliveries (litter) in a year. On average 7 litters are counted for a year.
How many babies can a rabbit have at one time? One litter 1 to 12 bunny babies can be born. An average of 6 newborn rabbits is taken. The delivery process can extend for a day or more.
How many babies do rabbits have or how many babies can a rabbit have? In a year a healthy pair of a doe and male (buck) can deliver anywhere from 12 to 150 bunny babies. Average may be taken as 45 -50.
How Many Babies Can A Rabbit Have In A Lifetime?
Knowing how many babies can a rabbit have in a year, theoretically can calculate for its lifetime.
A doe's fertile expectancy is 4 years. Hence on average can deliver 190 to 300 healthy bunny newborns in her fertile life span.
But all babies do not survive, plus it will not be possible for the female to feed a large litter continuously over many years. This is control by nature to limit population.
Alternatively, if somebody takes care of the newborn for nourishments, then one can have a large number.
How Many Rabbits Can A Pair Produce In A Year?
How many babies can a rabbit have in a year pertains to a doe. For a pair, it would be the same. The average figure is 5 to 7 litter in a year, with an average of 6 kittens per litter.
This gives an average figure of 30 to 42 babies of rabbits in a year. Can be more if the maximum figures are taken.
At What Age Can A Rabbit Get Pregnant?
The doe is ready for fertilization by 12 weeks. But breeders strongly recommend waiting 6 months (24 weeks) when it matures & gets in good physical shape to deliver healthy kittens.
The buck can fertilize just after 4 months and continue for 7 years. But breeders recommend waiting at least 6 months, before allowing them to mate to pass on healthy genes.
Rabbit Reproduction Rate
The captivity reproduction rates have been classified into three groups, depending on the controlled breeding cycles, to have healthy kittens.
A doe's active breeding life is 6 months to 4 years. At greater than 4 years of age, it is much riskier for the doe to breed healthy kittens.
A buck's fertile life is from 6 months to 7 years, for their health and good lineage.
A doe is productive for almost all days of a month (all year round) and will conceive immediately upon coitus.
It must be remembered that the buck is kept separate and the doe is brought to its pen for mating for a day or so, to have healthy control on the breeding cycle.
Some common breeding cycles practiced are detailed below.
Fast 8 Weeks Bunny Reproduction Rate
This is the rabbits breeding cycle in which a doe is fertilized again 4 weeks after delivery. That means on 2nd delivery its first litter is 8 weeks old. Thus in a year there can be 6 planned litters.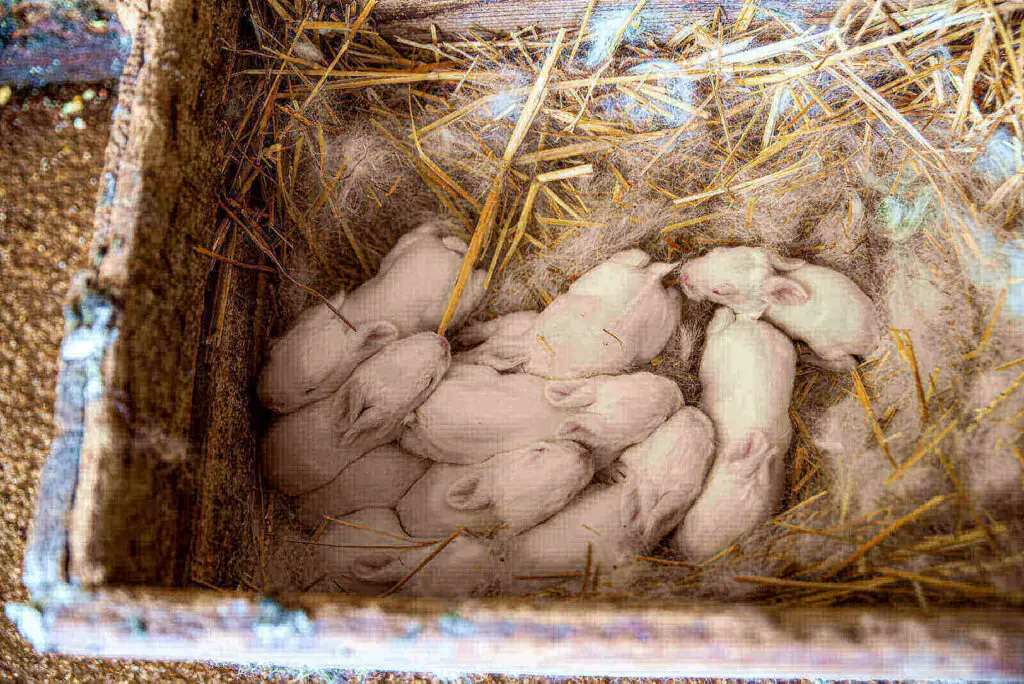 Average 10 Weeks Bunny Reproduction Rate
In this controlled rabbits mating the doe is mated 6 weeks after litter, so when the 2nd delivery comes, the first litter is 10 weeks old. Thus 5 deliveries can be planned for a year.
This gives good time to the doe for weaning its litter of rabbits and is well prepared naturally to look after the 2nd lot. Minimum weaning is needed from the breeder.
Slow 12 Weeks Bunny Reproduction Rate
This is the slowest controlled rabbit breeding schedule when the doe is mated 8 weeks after the delivery so that the gap between 2 litters is 12 weeks. This makes 4 litters in a year.
The kittens are grown up & completely independent of the doe. With the resting gap, the doe is well nourished to look after the new litter, and no weaning is required from the breeder.
How Many Babies Do Wild Rabbits Have?
The figures wary. In the wild male rabbits mate with more than one female. They litter from 1 to 7 times a year and deliver 1 to 12 kittens per litter.
The average that is acknowledged is 4 to 5 litters and 5 to 6 kittens per litter.
How Many Litters Can A Wild Rabbit Have In A Year?
According to Animal Diversity Web reports (Michigan University) rabbits in the wild (Cotton Tail breed) can have 1 to 7 litters in a year. The average is 3 to 4 litter annually.
Each litter can have from 1 to 12 newborns, with an average of 7 per litter.
How Many Times Do Rabbits Mate A Day?
A male rabbit is a very prolific actor. In the wild they would mate as often as possible depending on the environments and acceptance by the doe.
However, breeders recommend an average of 2 times per day and not more than 3 times per day for the buck and less for the Doe.
Final Verdict On How Many Babies Can A Rabbit Have In A Year
As common sense, nobody would like to have an uncontrolled herd of rabbits. The breeders agree and recommend having controlled reproductions.
It is important to have healthy newborns and rabbits, be it pet lovers or for meat production. As a general rule, the three breeding schedules mentioned above can be safely followed.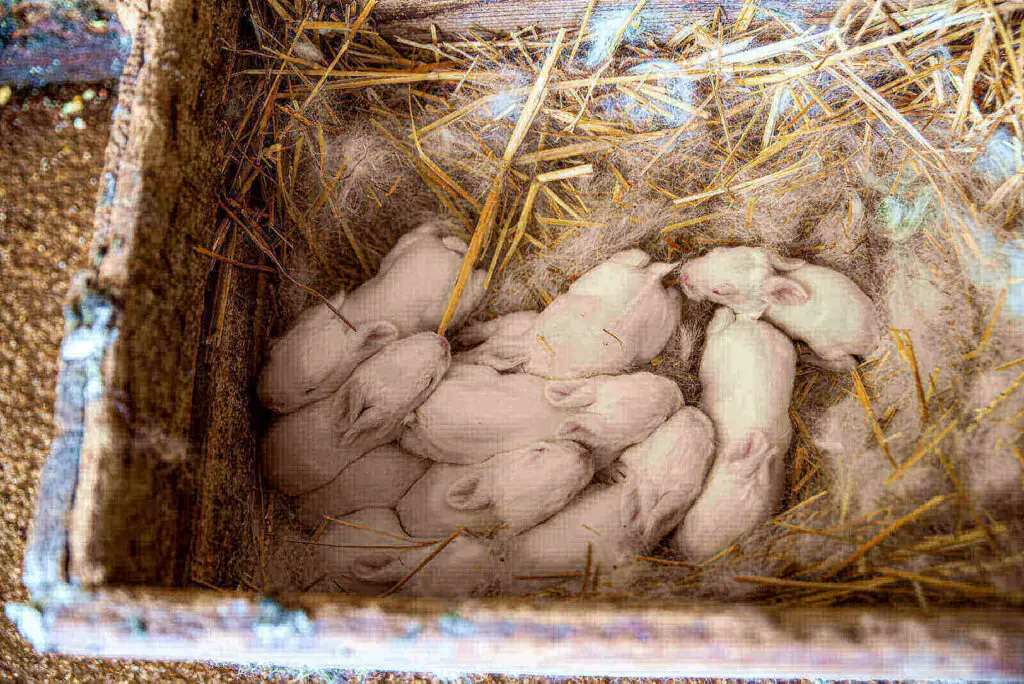 The fast 8-week reproduction schedules will give on average 45 (plus-minus few) new bunny babies in a year.
Here the breeder's involvement may be required to provide feed to the newborn as the doe may not be able to completely feed the litter if it is on the higher side. Otherwise, the babies suffer.
The average 10-week reproduction schedule will give about 35 (plus-minus few) new bunny babies in a year. How long do rabbits live?
how often do rabbits have babies? While the slow 12 weeks reproduction schedule will give 4 litters in a year, which translates to roughly 28 – 30 kittens in a year.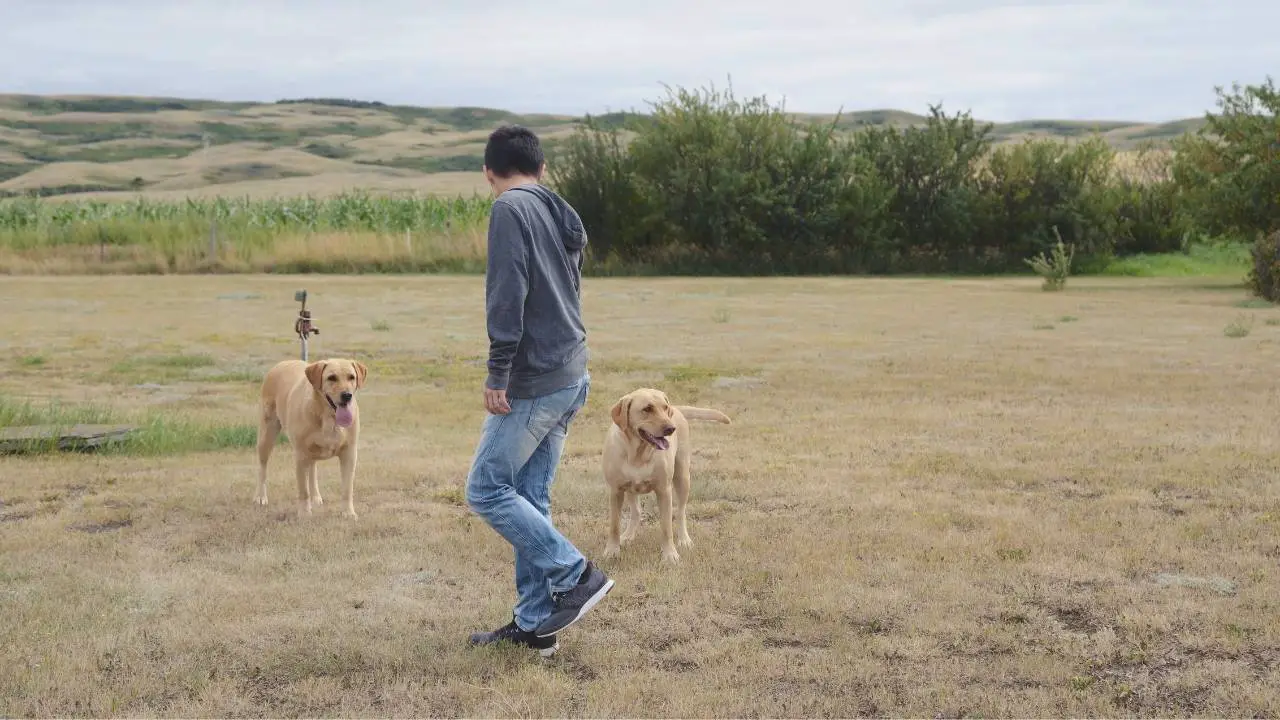 Welcome to Learn About Pet. My name is Rajkumar Ravichandran and I love all pets, travel, and amazing food. I write about my passion and personal experience caring for multiple pets in this blog! ❤️
Post Disclaimer
DISCLAIMER: THIS BLOG OR WEBSITE, "Learn About Pet", DOES NOT PROVIDE YOU WITH MEDICAL ADVICE AND IS NOT A SUBSTITUTE FOR MEDICAL ADVICE. ALWAYS GET IN TOUCH WITH YOUR PERSONAL VETERINARIAN AND USE INFORMATION HERE AS GENERAL ADVICE.
The information, including but not limited to, text, graphics, images and other material contained on this website are for informational purposes only. No material on this site is intended to be a substitute for professional veterinary advice, food recommendation, diagnosis, or treatment. Always seek the advice of your veterinarian or other qualified health care provider with any questions you may have regarding a medical condition or for pet food related questions.